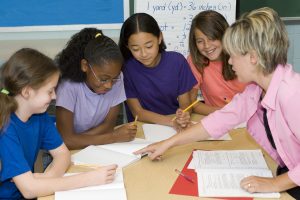 Interested in improving sixth-grade students' math performance?
Participating intervention teachers will receive FREE LESSON MATERIALS and PROFESSIONAL DEVELOPMENT. In addition, teachers will earn a STIPEND.
WHO CAN PARTICIPATE AND WHEN WILL THE PROJECT BEGIN?
Middle schools with at least one math interventionist who teaches at least two class periods of sixth-grade students struggling in math may participate.

Participating teachers will begin in the fall of 2019.
*Important Information: As a randomized control trial study, the project requires both intervention and comparison classes. Therefore, each math intervention teacher needs to be teaching at least two class periods of sixth-grade students struggling in math. One class period will be randomly assigned to intervention (Project AIM) and the other class period will be comparison ("business as usual" or your typical instruction.) We can accommodate multiple math interventionists with two or more class periods. Once the study is completed, schools will receive complimentary electronic copies of all instructional materials so that all students can receive the intervention in subsequent years.
WHAT DO THE MODULES AND LESSONS INCLUDE?
Validated instructional design features

Progress-monitoring measures to determine whether students are learning

A self-regulation component for students

Four modules for sixth-grade: Fractions, Decimals, Ratios and Proportions 1, and Expressions and Equations 1

Each module has 15 lessons and appendices lessons for additional instructional support
WHAT WILL PARTICIPANTS RECEIVE?
All instructional materials (student booklets and teacher manuals) and progress-monitoring measures

Professional development (half-day)

A stipend for each participating teacher (approximately $300 to $400)

Electronic copies of the 4 modules at the conclusion of the project
WHY IS THIS WORK IMPORTANT?
U.S. students' poor knowledge of core arithmetical concepts impedes their successful learning of algebra and is an unacceptable indication of a substantive gap in the mathematics curricula that must be addressed (National Mathematics Advisory Panel, 2008).

Students who struggle with math lack conceptual understanding of critical prerequisite skills (example: integers, ratios, expressions & equations-7th grade).

The primary focus of Project AIM is to develop conceptual understanding, numerical fluency, problem solving, an self-regulation to IMPROVE STUDENT MATH PERFORMANCE.
Interested in Participating or Receiving More Information?
We have limited spots available, so schools and teachers that express interest first will be given top priority. You can also contact Dr. Diane Pedrotty Bryant directly for more information at dpbryant@austin.utexas.edu