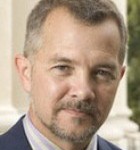 Dr. David Chard became Wheelock College's 14th President on July 1, 2016. He was previously Dean of the Annette Caldwell Simmons School of Education and Human Development at Southern Methodist University (SMU), where he created a strategic vision focused on undergraduate and graduate programs built on evidence-based practices. Chard also served as associate dean for the College of Education at the University of Oregon. He has held faculty appointments at both Boston University and The University of Texas at Austin and in the late 1990s served as associate director of the Texas Center for Reading and Language Arts at UT Austin.
Chard earned a Ph.D. in special education at the University of Oregon in 1995 and a B.S. in mathematics and chemistry education from Central Michigan University in 1985. His scholarly focus has been on the role of instruction in the development of basic literacy and numeracy skills for students with learning disabilities or those at risk for school failure. He has co-directed a number of federally funded model demonstration projects and research studies, and he has directed or co-directed several state and regional grants and contracts that have examined the improvement of schools and student achievement through the development of teachers' knowledge and practice.
Chard has published several research articles; co-authored and contributed to multiple book chapters; and either written or co-written numerous technical reports, monographs, and training guides. A frequent presenter at national and international education conferences, he has taught courses on behavior management, special education reading and writing, learning disabilities, and special education law. To contact Chard, visit the Wheelock College website.